Sunset Tours
Enjoy a Sunset Cruise Touring aboard the Sea Hunt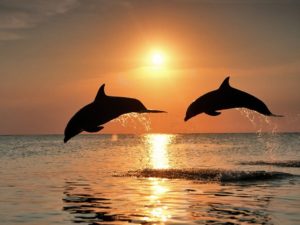 Imagine a gorgeous, picturesque Florida day. The sun is out and the wind gently sways past you as you relax on the Sea Hunt heading out of Tampa Bay to the open waters of the Gulf of Mexico. Captain Hunt will take you on a guided tour from Maximo Marina through the canal lined with beautiful homes on either side. You'll then hit Boca Ciega Bay as the Captain takes you on cruise of the sea. Music or a genre of your choice will play on the Bose sound system as you soak in the sun with those closet to you.
The boat will anchor down between Shell Island and Pass a Grille Beach, right on the scenic and idyllic Gulf of Mexico. Dolphins and even a manatee have been seen at times in this exact area. While watching the classic beauty of the sun setting over the horizon you're surrounded by water and a peace like none other. There's a calm as you take in the sounds, the fresh air and beautiful scenery. This will truly be a memorable experience. The Captain allows time for pictures and relaxation after the sun goes down as you enjoy great music and the company of your special someone.
Embark and disembarking takes place at Maximo Marina 4801 37th St S, St. Petersburg, FL 33711.
The Sea Hunt sets sail an hour prior to sunset.
Passengers may bring drinks of their choice on board.
Prices are $60 per person, one to three couples on any sunset cruise.
The cruise typically last 2 hours.
Tour Launch from Maximo Marina: 4801 37th street so. Saint Petersburg. FL. 33711