Sandbar Excursion and Tour
Sand Bar Excursions with Captain Hunt aboard the Sea Hunt starting at Maximo Marina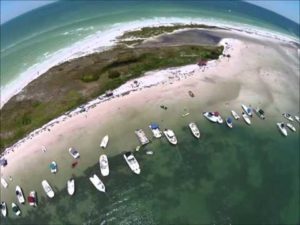 Enjoy the adventure aboard the Sea Hunt during a gorgeous Tampa Florida day, with the sun shining and blue skies overhead. You and 9 or more of your friends and family partying, hanging out and just having fun on one or our beautiful sandbar islands near historic Fort De Soto.
Your party will board at Maximo Marina in St. Petersburg at 11 am. You may bring coolers and any food or beverages of your choice. Sunshine Jetski Rentals will provide water and fruit trays for the day. As you cruise towards the sandbar you'll listen to great music and enjoy the beautiful St. Pete backdrop.
Upon arrival at the sandbar a music system is setup with Bluetooth connection so you're able to keep your favorite sounds going. Two tents are setup to allow shade for those who want to lounge around. The beautiful warm water will make for a nice swim or quick dip. Those you want to lounge on one of the provided floats can soak in some sun while relaxing on the water. A Jetski can be added to any excursion for an additional $125. Glide through the air on a 3 seater Yahama VX110. The Jetski is available the entire excursion so everyone will an opportunity to ride the open waters.
The sandbar excursion is perfect for all ages. There's something enjoyable for everyone. This is a great experience for family/family gatherings, bachelor/bachelorette parties, couples getaways, work related team buildings or for any other reason you need to have a great time!
Summary of Information to Schedule a Booking
Must have 10 or more passengers
Adults $60 each
Children (12 and under) $35
Embark and Disembark at Maximo Marina St. Petersburg
Excursion last 4 hours
An additional hour may be added upon request and for an additional fee
Water and fruit included
A Jetski may be added to $125
Call to book your adventure!
Tour Launch from Maximo Marina: 4801 37th street so. Saint Petersburg. FL. 33711